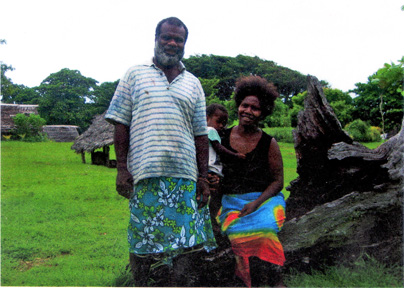 Sam and Jocelyn
Tanna is still known as the most "kastom" and culturally traditional island in Vanuatu. So why be a tourist when you can experience life as a Melanesian at Captain Cook's time over 200 years ago?
Chief Sam Usua and wife Jocelyn welcome you to spend a day, a night or a week with them in their "kastom" village of Iakupen. Iakupen is just one small village that is part of the community of Port Resolution. The village sits on a hill that overlooks the bay where Captain Cook first anchored when i arrived in HMS Resolution in 17...
You can design you own tour depending on your interests and time available. The Usuas are delighted to guide you, teach you and let you experience any or all of the following Melanesian cultural and traditional ways of life still enjoyed today.
Tour a Melanesian garden while learning to plant, harvest, prepare and cook local "kakoe".
Take a guided bush walk and learn the various uses of all the tropical plants around the village from kastom medicines to building traditional homes, tools, cloths and Kastom crafts.
Learn Kastom weaving methods and make your own basket, mat or grass skirt to take home as a souvenir.
Learn and experience traditional hunting and fishing methods still practiced today. Spear or hook you own fish from Chief Sam's outrigger canoe, or catch your own flying fox for dinner.
Enjoy a prepared lunch or private sunset dinner of local "kakoe" on a beautiful secluded white sand beach (snorkel equipment is available).
Cook manioc, taro or yam in the nearby hot springs that was once used to cook human flesh.
At sunset (men only) can experience the most sacred of all Tannese traditions. Chief Sam will personally take you to his Nakamal, teach you the history and custom of Nakamals on Tanna, while you participate in the preparation of making kakoe kava. Upon drinking a shell, you will have experienced the most unique kava tradition known only to "man Tanna".
There is nothing that better defines life in Vanuatu than the bislama word "storian" meaning just sitting around talking. The most rewarding and heart felt experience that you can take home with you will be to have spent an evening around the fire, eating local kakoe while "storian" with Sam, Jocelyn, and their family of Iakupe. As you "storian" you will learn all the kastom stories and tabus that have been passed down for hundreds of years on this South Pacific Island.
ACCOMADATIONS
Any or all of these unique Melanesian experiences can be arranged as a day tour (or more) from any of the local bungalows on Tanna. Should you like to sleep in a kastom village, Sam and Jocelyn can arrange that as well, including a romantic night under a coconut front shelter on a white sand beach only ten minutes walk from Iakupen.
TRANSPORTATION
Since Chief Sam is the Driver and care taker of the community vehicle, you can make arrangement with Sam to transport you anywhere on Tanna.
SPECIAL ARRANGEMENTS
Custom dancing
Melanesian feast "Bunia"
John Frum string band
Sharks Bay
Volcano tour
This web page has been posted on behalf of Chief Sam and Jocelyn Usua.
Contact Jocelyn via telephone no. +67868061 (ask for Suzanne) or
Port Resolution "Yacht Club" via no. +67868791
In both cases you may have to wait or call back.