When crossing the Atlantic with the trade winds, focus is normally on provisioning. There is fear to run out of water and fear of getting cockroaches on board. This year the "fears" were on whales, pirates and hurricanes.
Sailing from the Canaries to the Caribbean is supposed to be a milk run. Trade wind sailing at its best. Downwind in the sun with smooth conditions for 3 weeks. But maybe that is not always the case? The last briefing before the start brought some doubts. The briefings are serious stuff and a professional meteorologist with some 20 Atlantic crossings under the belt is brought in. People exchanged glanses when we were asked not to shoot at the messenger. Well, we would be starting going to windwards with strong wind from the south west. This wind was driven by even stronger winds because further west the hurricane Delta was developing. Better avoid the rumb line if you wanted to avoid this Delta. Better go south. There was, however, a hitch. There would be very little wind for many hundred nautical miles, in fact all the way south to Cape Verde. Like it was no wind from Norway or the UK to Island. It might be better to go east to find a slight notherly breeze. Africa??
Pirates and convoys
A few days later we were having a very nice sail along the coast of Marocco and Spanish Sahara. We were not alone. When we did the crossing in 1996 the trade winds were blowing steadily and we had the hole ocean to choose from. The boats were far and few between after the first two days. This time all but the foolhardy chose this same safe route. After a hectic start beating along Gran Canaria the sailing was relaxed with velvet tropical nights with sparkling stars. The sea was smooth. We chatted on the VHF with known and unknown fellow sailors and had a great time. That was until the ARC office issued a pirat warning. It went from romantic to realistic in less than 10 seconds. Unlit boats had tried to get close to, and one ARC boat though a vessel had tried to bord them. In desperation they switched off their navigation lights and motored away as fast they could. Fortunately other ARC boats were in the neighbourhood and they got away. There were other similar reports. We were urged to take the threat seriously.
External threats work wonders for the community spirit. The boats were gathering and come night the boats were lined up convoy style. "The Norwegian Convoy" became quite well known with applications from many nations. Some were quite close and some only near by, more like virtual participants. There was no moon and all you could see were lanterns dancing across the black sea. Contact was maintained on the VHF.
We did indeed have some unidentified echoes on the radar and our German virtual participant thought a dark vessel was trying to get really close. The other boat dissappeared, however, when our German friends swithched off their navigation lights. For us the night remained calm and balmy. Come morning there was some wind and the regatta was on again.
Was it pirates? We doubt it. There are plenty of fishing vessels along the African coast and the lack of lanterns is nothing new. They are also known to be curious and inquisitive. But pirates exist so you never know. We will never forget the night in the Norwegian convoy.
Whale!
Days went by and we were sailing quite effectively with the little wind we could find. Down south the meteorologists promised possible trade winds. Weak and temporary, but better than nothing. More wind the further south you go. Many used the engine extensively to get away from the becalmed area. An armada headed for Cape Verde and beyond. This is bad for the fuel reserve, and fuel is necessary to charge the batteries even if you are not motoring. Never before have I heard of a "pit stop" in the ARC, but for many this is how it became. That this is not straightforward in a country that does not take credit cards or have cash machines is another matter better told by those who experienced it.
Necessity sailed on in the slight winds we could find. The engine was used sparingly only when the speed fell below 2 knots. In this period we had a grand experience in every sence of the word. A Fin whale, longer than Necessity and as wide, decided to have a show. We have seen whales on many occasions, but none playful like dolphins. For more than 30 minutes it appeared close to on all quarters, and it culiminated in a "grand finale" when blowing only 5-10 meters behind Necessity and then dive centimeters under rudder and keel. The show left us breathless and reverend with photoes and film to remember.
Better then, that the next whale episode happened a few days later and not before. On day 9 we were called on VHF by a british yacht with a crew that were literally shaken. The story was none the less dramatic for the children onboard the boat. They asked us to report the incident to the ARC office by our Inmarsat installation.
SUBJECT:Blasé collision with whale reported 1650 UTC
Blasé has asked us to report the following incident:
The boat hit a whale with calf a short while ago. The wale(s) were badly hurt and proceeded to give Blasé quite a bashing. The boat appears, however, to be ok.
The collision happened at 16,38N 28,12W.
Blasé wants to warn other boats in the area about this incident and to be on the lookout for the injured whales.
ARC 227 Necessity at LAT: 16,51.81N LON: 028,22.00W
They family crew on the yacht thought for a while that the boat would disintegrate. It was many days before they felt secure again. Ocean going yachts are, however, sturdy vessels so they were all right in the end. There were also other whale collisions, and a German boat got a bent propeller shaft after one such incident.
The whale saga did not end there. Desember 5. we were again visited, this time by a school of 6-8 whales entertaining us. We think they were Minky whales, 8-10 meters long. They behaved a little like Dolphins, sliding in from behind, lifting their heads as if to see us above water before diving under the boat. They did not appear at all agressive and gave us plenty of time to collect our under water video camera. Hanging from the bathing platform on Necessity we broke most of the safety rules, but we managed to film whales under water at a distance of 0,5 - 1 meters. The quality of the film was not good, but the experience was "high definition". In a couple of frames we see only a huge eye returning our curiosity
Hurricanes:
By mutual concent the hurricane season ends Desember 1. That may have been true before, but hardly in 2005. First we ended up close to Africa to avoid the hurricane Delta. That was all for the best because Delta circled the Atlantic to end up creating havoc in the Canaries. We were not really affected having put hundreds of miles between ourselves and the hurricane. Then along comes Epsilon. All hurricanes are unpredictable and this one ended up with a front getting quite close. Not that the winds effected us directly, but we got very "confused" and "rotten" seas. At least 3 wave fronts of 3 - 4 meter high. It was a real roller coaster (or by British understatement: It will be a little rolly - polly again tonight). This was the main topic on the radio net together with fishing stories. We all got tired of the irratic movements, and the less enthusiastic sailors "wanted to go home". These are seas that we expect in the North Sea with max. 2-300 miles to go. Here we knew that i may last for a 1000 miles or more. To be shaken, stirred and centrifuged for more than a week is taxing.
For those of us that had done this before the contrast was enormous. In 1996 we had downwind sailing in long, easy swells and winds of 10- 20 knots. Sail changes could often be postphoned to the next day.
Life on board....
reflects the conditions outside the boat. We open a locker and 4 flying soucers emerge. They hit a juice box which has been fixed, but behaves like a "Geysir" on impact. Food is frequently spilled. On the SSB (short wave radio) people tell about their accidents. A liter of olive oil spills on the carpet and the pancake batter hits the sofa. It seems to be compulsary to fill at least one bunk with sea water because someone forgot about a hatch. One boat though a life west had blown overboard in a squall only to find it again behind the stove. In such conditions equipment breaks. Genoa booms, sheets, sails and even forestays suffer. One boat even managed to change their roller forestay at sea. It was only hanging on in the genoa hallyard. The stay was lowered and the profiles were dismantled one by one. They had a spare wire on which the profiles were mounted again. Then the forestay was attached again using Norseman terminals. The Norseman terminals are screwed on rather than swaged. I rate this achievement highly.
On Necessity the wind steering suffered. First when it was hit by a flying fish. The fish actually flew straight through the canvas of the vane. Flying fish are projectiles in the night and not a joking matter (we have heard of crew getting hurt). Then the shaft of the wind steering broke right off, but this one has been around the world twice so something had to be expected. We are getting a new one in St. Lucia. In the meantime the windsteering was sorely missed.
ARC or not
We are often asked why we sail with the ARC, even twice. There are two main advantages. From a social point of view the ARC is fantastastic. You get good friends and useful aquintancies in record time. Many argue that to cross the Atlantic in the trade winds is not difficult. True, but you are still left to yourself on an open and fairly unpredictable ocean for some 3000 nautical miles. In this years ARC one boat got a bad leak in the keel attachment, and the crew was afraid they might loose the keel. Within a few hours 5 other ARC boats were on the spot. Even if commercial boats also came to the recue fairly soon, it is definitely good to know that help is always close at hand.
More important perhaps is that the ARC induces a focus on safety. This is driven as much by the other participants as it is by the safety check of the ARC orgaisation. The latter is fairly basic. Also important are the available expert advice from companies like Solent Rigging and in our case from Hallberg Rassy. It is when you get confident that you need an external audit.
But there is also a downside. ARC leaves on a fixed date very early in the season. If you are leaving in November it is probably better to go to the Cape Verdes. Then you may as well spend some time visiting these very interesting islands. From the Cape Verdes you may go to Brazil avoiding most or all of the weather hazards. With the ARC you lose that flexibility. The founder of the ARC, Jimmy Cornell, made a speech in Las Palmas putting a lot of weight on weather timing for the best possible passages. It is a paradox that with the ARC such flexibility is to some extent gone.
But when it is time go go againg, who knows?
ps
We are occasionally asked about our result in the ARC. Basically we think the ARC is a rally and not a regatta, and that this focus on results is wrong. Also the handicap system is not fair to some of the other boats. Having said that, Neccesity was placed no. 17 out of 225 boats. Having chosen the safe rather than the fastest route we are quite happy with our passage making.
ds
Bilder: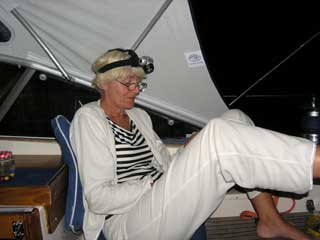 Eva on "watch" in the night - more interested in the book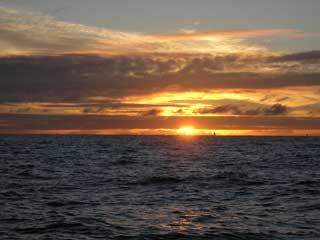 Beautiful sunsets and calm conditions. The Bergen boat "Blå" on the horizon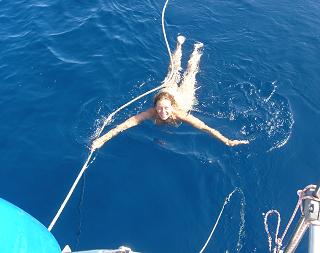 Helene on tow - no sharks ?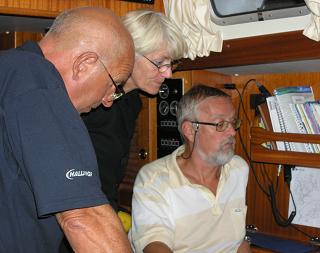 Studying the pirat warning:
ANTI PIRACY SITREP MSG: A173/2005
THIS BROADCAST WARNS SHIPS IN PASSAGE IN WEST AFRICA REGARDING PIRACY AND ARMED ROBBERY........
And then the hurricanes :
HURRICANE EPSILON FORECAST/ADVISORY NUMBER 22
NWS TPC/NATIONAL HURRICANE CENTER MIAMI FL AL292005
2100Z SUN DEC 04 2005

HURRICANE CENTER LOCATED NEAR 34.3N 38.0W AT 04/2100Z
POSITION ACCURATE WITHIN 15 NM

PRESENT MOVEMENT TOWARD THE EAST OR 90 DEGREES AT 10 KT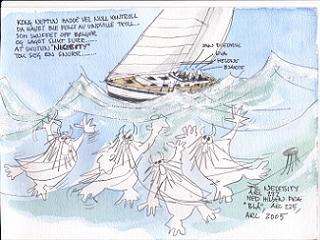 And then the hurricane came towards
us ....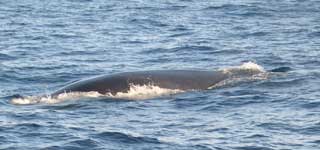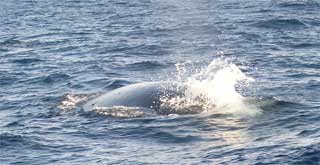 Fin whale - 20 m loa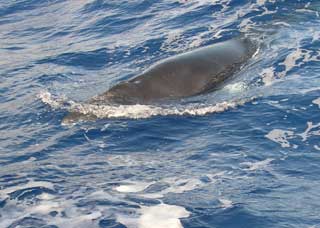 Minky whales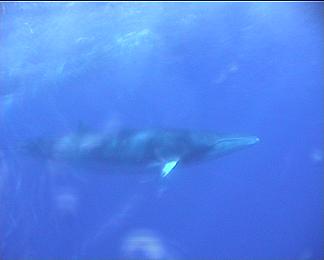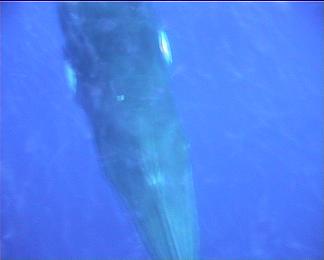 Minky whales study Necessity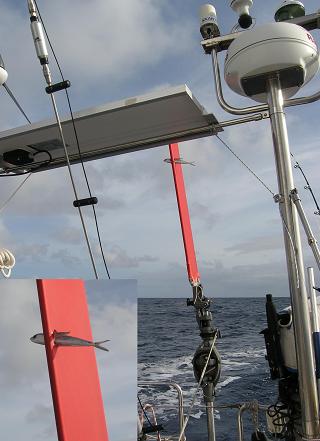 Flying fish in the wind vane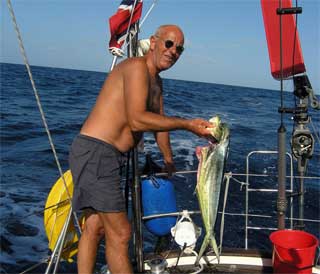 Dorade or dolphin fish is good
Helene at the helm - America!